A big thank you to EMULSIVE, and DIY Photography for publishing this article!
Panoramic Cameras
Panoramas: a great format for (in my opinion) most
photography. Dramatic landscape? Make it panoramic. Artsy architectural photo?
Panoramic. Wanna make that softball game look a little more like Ben-Hur?
Panoramic of course. Weddings? Well… never mind. So as a panoramic
enthusiast, and someone who enjoys shooting film, I've had my eye on several
panoramic film cameras. Unfortunately, a true, full panorama camera can be very
costly, like the Hasselblad XPan (>$3,000) or the Fuji GX617 (>$2,000).
There are also swing lens cameras, which use a mechanical method of capturing a
panorama. The lens of the camera pivots or "swings" in a horizontal arc,
exposing the film to the panorama as it moves. This mechanical motion can add
distortion to photos which may be a desirable effect for some. A handful of
companies produced these cameras, like the Widelux F7 (<$1000) used notably
by Jeff Bridges behind the scenes of his films, or the more affordable Horizon
Kompkt (<$200). Regardless, what makes these cameras all true panorama
cameras is their ability to expose the entire panoramic photo onto film. For
example, a standard 35mm film camera exposes an area of 24 x 35mm, meanwhile
something like the Hasselblad XPan exposes 65 x 35mm. This uses more film, but
results in a larger, more detailed image and a true panorama. However, there
exist a type of camera which "fakes" the panorama.
The "Faux" Panoramic Camera

There are many film cameras that emulate the effect of
a true panoramic camera by reducing the area of film exposed to the dimensions
of a panoramic photo, cropping it, rather than expanding it. The Ansco Pix
Panorama (<$10) is a camera that does just that, exposing a minuscule 13 x
35mm compared to a standard 35mm camera at 24x 35mm or the Hasselblad XPan at
65 x 35mm. Along with this, it is incredibly simple, having a static shutter
speed of 1/125, a 28mm fixed focus lens, an aperture of f11 and no light meter
to speak of. The camera is completely mechanical, the film is advanced, and the
shutter is charged by winding a knurled plastic disk. So, with its tiny frame
size, nonexistent settings, this little plastic box is truly a point and shoot;
hardly a Hasselblad. A few simple modifications to the Pix Panorama would go a
long way to improve it.
Tripod Mount
Yes, this camera even
lacks a tripod mount. Something as simple as using a tripod alters how I take
photos with any camera, as I spend more time framing and adjusting shots. Now,
since the shutter speed of the Pix is 1/125, handheld daylit photos should be
just fine but having the option of using a tripod is better than not having it,
so I made a mount. The design for it is very simple, in Autodesk Inventor, I
made a trapezoid with a hole in it. This hole is a little smaller in diameter
than a ¼" brass nutsert. I 3D printed this mount on an FDM printer using PLA
filament with 100% infill. When the mount was finished printing and removed from the print bed, I
moved it to my bench and used some forceps to hold the nutsert over the hole. I
heated the nutsert using my soldering iron, applying a small amount of
pressure. As the nutsert heated it melted the PLA and buried its way in and
when it was flush, I removed the soldering iron and let it cool. With the mount
complete, I then adhered it to the bottom left side of the camera using double
sided tape. Glue or epoxy would work too but I wanted something less permanent,
as I may alter the design in the future. Although simple, this worked quite
well.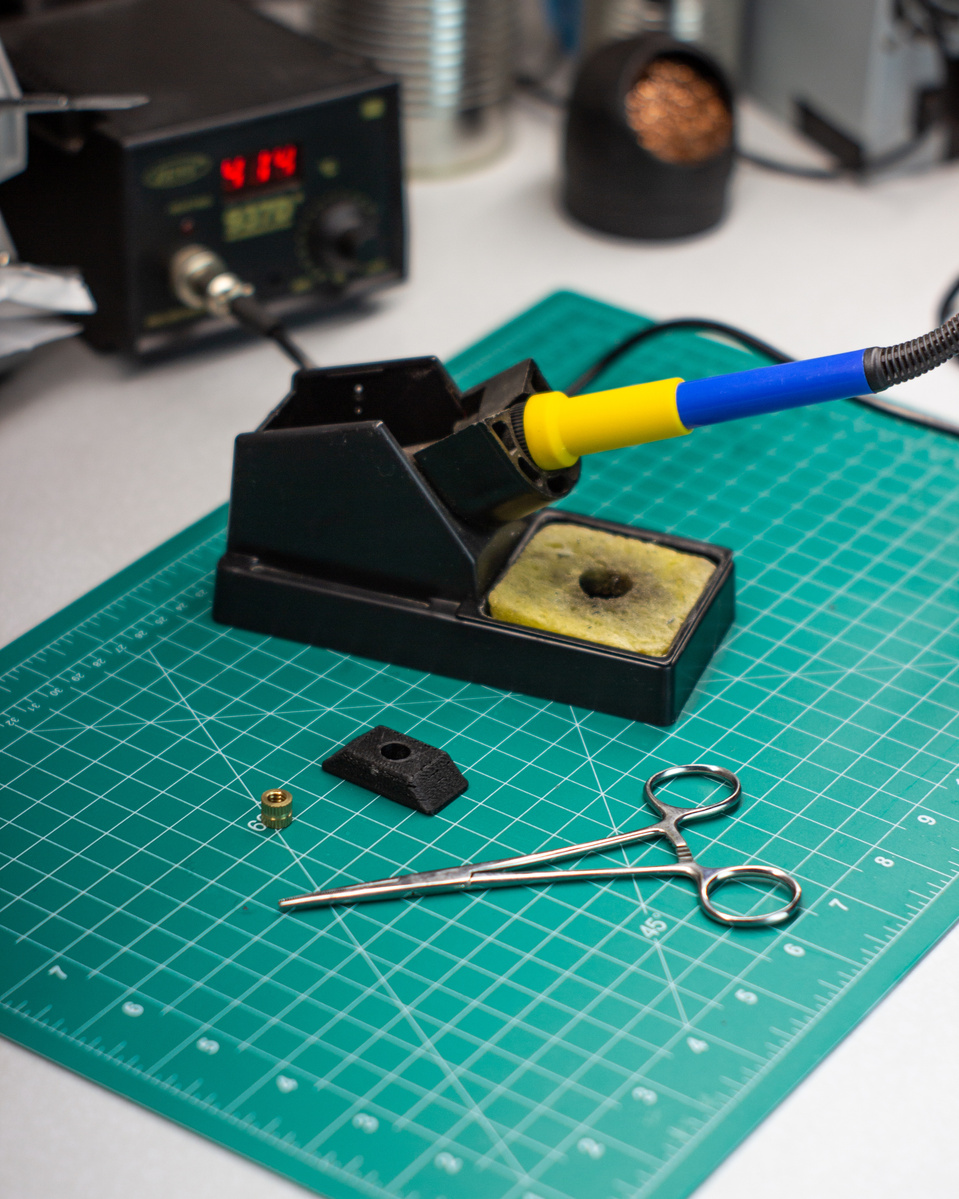 Filter Holder
Filters may not be the first thing to come to mind
when modifying such a basic camera. However, since this camera lacks any kind
of control for exposure, the use of an ND filter would never be more
appropriate. In addition, using color filters when shooting black and white
film can enhance aspects of a photo. Whether it be a red filter to boost contrast
or a yellow filter to bring out clouds, using filters would be a beneficial
addition. Back in Autodesk Inventor, I designed the base of the filter holder
to conform to the curved face of the Pix Panorama. I then designed the part
responsible for holding 58mm filters. The filters are held in place by two
small "fingers" 180° apart from one another, the distance between them is a
little less than 58mm, meaning the filters fit snugly in place due to friction
but can be easily changed. Like the tripod mount, both filter mount models were
printed in PLA at 100% infill. I made the choice to print this using a matte
black filament, so it absorbs light, as it's being placed around the camera's
lens. In my mind, this will mitigate the chances of light reflecting oddly into
the lens if using white or another light-colored/colored filament. Once the
models were printed, they were removed from the printer and brought to the
bench where they were adhered together using WELD-ON 4, one of the best
solvents I've found for adhering PLA together. Likewise to the tripod mount,
the filter holder was adhered to the front of the camera using double sided
tape. Once installed, the inexpensive set of Neewer 58mm filters that I use
could be mounted and changed with ease.
Disaster
Much like my life, I expected loading the Pix Panorama
to be easy, however disaster struck almost immediately. When loading the camera
with film, for reasons unknown, I didn't believe the film was winding properly,
so I hit the rewind release and rewound the film… completely. I wasn't planning
on doing this, I thought I could rewind it just enough to leave the film leader
exposed and then try again. Nope. Normally saying goodbye to the film leader
wouldn't be so bad, as I would pull out another roll of film and save the
process of retrieving the leader for home. Double nope. Not only was I an hour
or so away from home, I also didn't bring an extra roll of film. In a panic, I
began trying everything to recover the leader, using my Leatherman to cut up
bits of random plastic and cardboard found in my car to make a makeshift leader
retriever but nothing was working. About to give up, I realized that I could
turn my jacket into a makeshift darkroom bag by zipping it up, sealing both top
and bottom openings by rubber-banding them closed and sticking my arms through
the sleeves. Before doing this, I loaded the jacket darkroom bag with the roll
of film, the modified Pix Panorama, and my Leatherman. Once my arms were in, I
was able to pop one cap of the film roll off using the Leatherman's bottle
opener tool, remove the spooled film just enough to feel the leader, and slot
it back through the opening slit in the case. I popped the cap back on best I
could and proceeded to load the camera with the roll. With a few prayers said,
the camera was removed from the jacket darkroom bag, and was ready to shoot.
Results
Fortunately, it appears my Macgyvered methods to load
the camera worked. I shot a roll of Ilford HP-5 Plus which I developed in old ID-11
developer. The age of the developer likely contributed to the grain seen in the
photos. Regardless, I'm quite satisfied with the outcome, even if they aren't
"true" panoramic photos, the effect is still impactful. The Pix Panorama also
has unique focus, with it being sharpest in the center and some blurring and
vignetting in the corners. The use of various colored filters achieved what I
wanted, and the tripod mount was incredibly helpful. So, in the end, is there
really any reason to use, let alone modify a camera like this? Absolutely. I
had a great time designing the parts for it, and I had an even better time
shooting and developing the film, even with the initial mishap accounted for.
Being able to change out filters was made easy by the filter holder, and many
of the photos were taken with the camera on a tripod. While it certainly isn't
a Hasselblad or Widelux, it's still is a distinct and fun camera.
The Final Product

Sample Photos Using Ilford HP5 Plus Developed in ID11 Developer